McClain Trailers is a family owned business that was started by its founder in 1955 with a small building and a single employee.
McClain is now a market leader in manufacturing quality trailers for recreation and business use. McClain has a complete line of trailers for inboard, outboard, and I/O boats. The quality built into all McClain trailers is a result of customer expectation, a highly trained workforce and an excellent management team.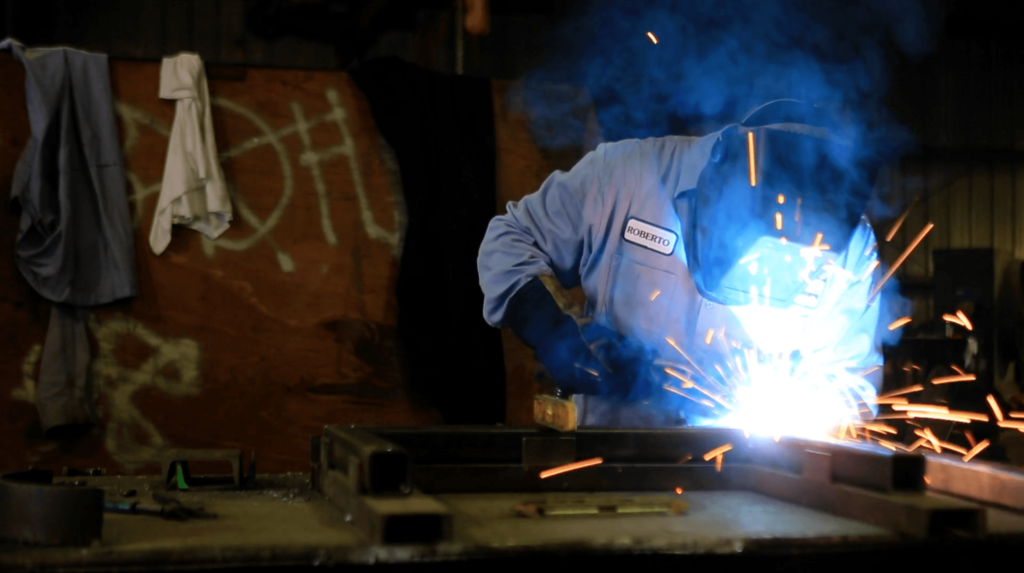 McClain's customer service is second to none. To better serve McClain customers, McClain now has more than 200,000 square feet of manufacturing area in four locations. The main office and manufacturing area is located in Houston, TX. McClain Trailers has a second location in Houston, along with facilities in Louisiana in Baton Rouge and Denham Springs providing Parts, Sales and Repair services.
With the help of Sawblade.com, McClain is building the best aluminum boat trailers in the market today.
Through years of Research and Development, McClain has become the leader in manufacturing of Custom Aluminum Boat Trailers. McClain has a complete line of trailers and parts to meet all your needs.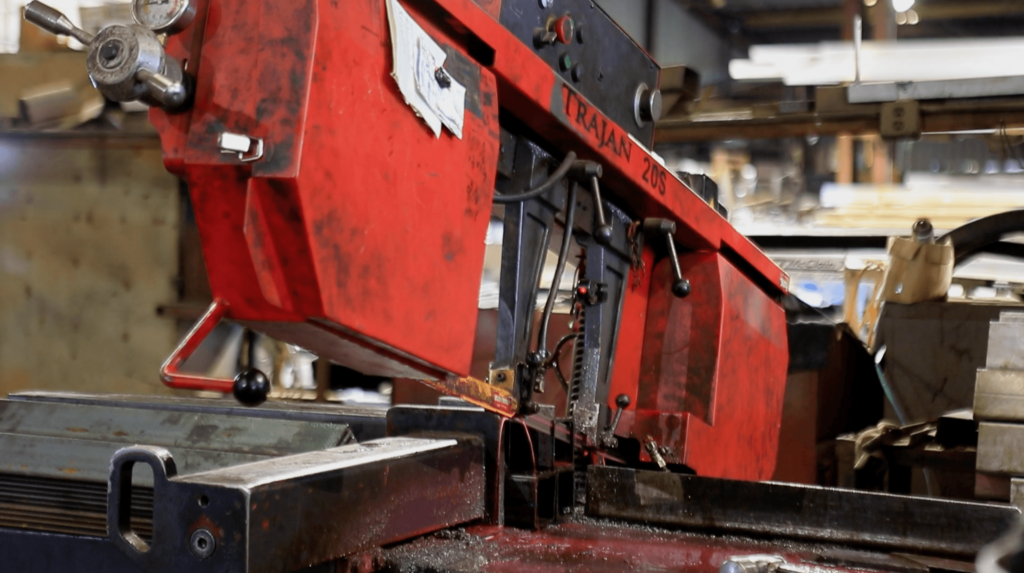 The Trajan 20 Band Saw is part of the McClain manufacturing process. This dependable 13″ x 18″ semi-automatic band saw has both an in feeder roller table and exit table built directly to the frame of the machine for easy material handling. Furthermore, the head rotates allowing them to cut miter angles up to sixty degrees without the hassle of repositioning the steel.
McClain Trailers relies on Sawblade.com to provide them with bandsaw blades and coolant for their Trajan saws.
Choose the Trajan 20 Bandsaw: Versatility and Power
With a lot of different band saws on the market, it can be difficult to figure out which one is right for you and your manufacturing process.
One of the big advantages of the unibody-constructed frame is that it gives the operator plenty of space to cut and handle difficult materials. It has a discharge table that is perfect for keeping heavier metals in place, contributing to cleaner, better cuts. The Trajan 20 also has a four-speed dial control system, giving you a lot more versatility with your saw.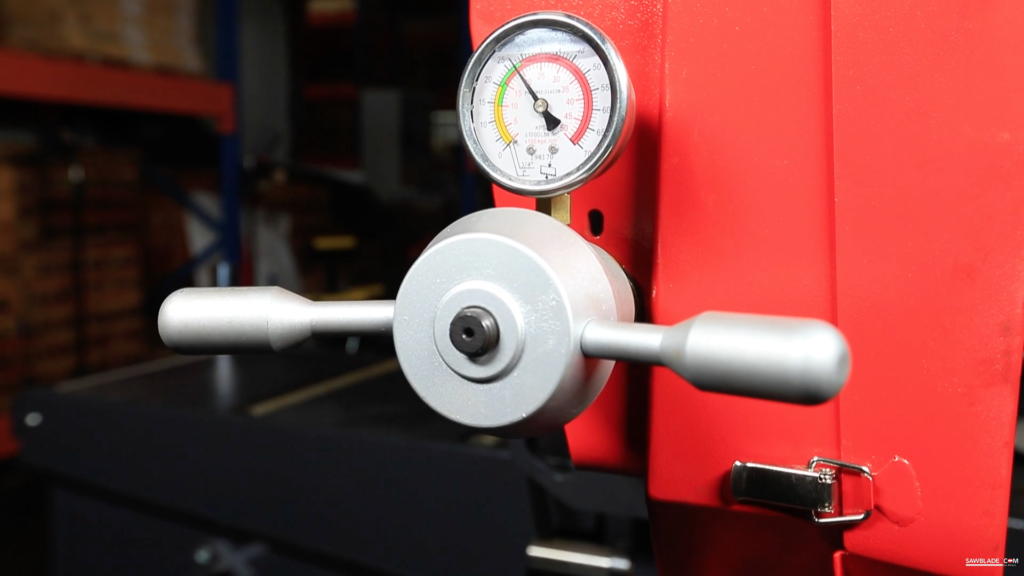 The Trajan 20 band saw is more heavy duty than the Trajan 712, weighing in at 1600 pounds. Since the saw is so heavy, it gives the operator a lot more stability when cutting, offering the operator more efficient cuts. It comes with a self-contained coolant system that lets you cut harder materials and achieve an extended blade life. The coolant system also comes with a hose that lets you easily clean the work area and the saw.
The Trajan 20 band saw differs from the 712 in that it has a one-inch blade. This one-inch blade gives the operator a range of saw blade options that makes the saw a more versatile tool for any workshop. In order to get straighter cuts, the Trajan 20 is also equipped with a laser that allows the operator to measure the cut without ever having to put the blade on the material.
One thing to keep in mind about the Trajan 20 is that it doesn't have an auto index, which would allow the cuts to be automatic. However, this is mainly applicable for structural uses and may not be a drawback for your particular operation. The Trajan 20 band saw is a straightforward, easy-to-use product that comes with a one year parts and labor warranty.
Deluxe Heavy Duty Band Saw – 13″ x 18″ Semi-Auto, Heavy Duty, Metal Cutting Band Saw
Larger working platform and rear roller table enhance working convenience
Deluxe stand stabilizes the machine body
High gear drive system incorporates a variable step pulley, which provides fast changing speed
Tungsten blade guide helps to maintain the cutting stability and extend the blade life
Enlarged hydraulic cylinder and buffer spring enhance the cutting stability
Hydraulic saw arm lifting system can lift the saw head up and down with preferred speed
Designed Tru-Lock Vise provides fast clamping
Cutting angle from 0 to -60 degrees without moving stock
Cleaning hose and nozzle assist in washing chips away
Coolant system for wet cutting
With Bi-metal blade, chip brush and length stop set
Includes laser indicator and hydraulic tension meter
"The Trajan 20 has a 13″ X 18″ semi auto band saw with a 'unibody', or one piece construction, It can cut horizontally, or up to 45 or 60 degrees for different Miter cuts, making it a great saw for machine shops, fabricators, valve companies, and many other applications."
Choose the Trajan 20 when you need a heavy-duty band saw that can handle a variety of applications. This cutting machine is engineered to cut through some of the hardest metals. Its features and specs combine to form a powerful, high-performing saw with modern conveniences.

Operator Convenience
With a large working platform, the Trajan 20 band saw offers enough elbow room so operators can work comfortably. This cutting machine is also engineered for quick clean up: it's cleaning hose and nozzle make washing down this saw a snap.

Sturdy Build and Stable Cuts
The Trajan 20 is a sturdy cutting machine. It's overall structure contributes to the saw's cutting capabilities. The stand, for example, lends stability to the machine body. Tungsten blade guides keep saw blades steady as they cut, which also improves blade life. In designing the Trajan 20 for maximum stability, we also enlarged the hydraulic cylinder and buffer spring. This is one sturdy saw.

Precise Control
Complete with a high gear drive and variable step-pulley, the Trajan 20 has a fast changing speed. This saw also has a hydraulic saw arm lifting system that can raise and lower the saw head according to the operator's speed preference.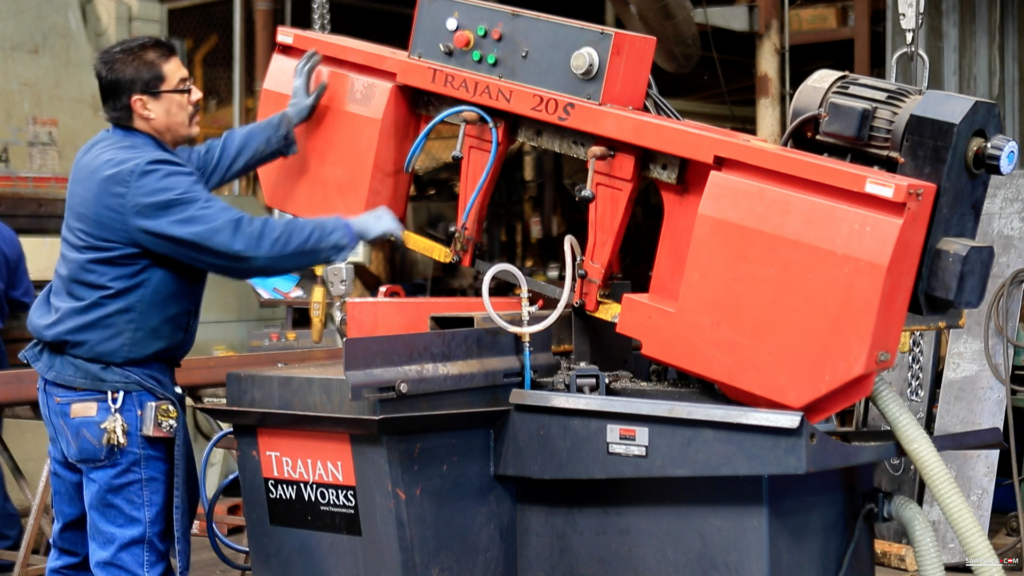 Blade Guide: Carbide
Blade Length: 13′-10
Blade Speed: Variable
Coolant Pump: Standard
Cut Method: Horizontal
Feed System: Manual
Laser Alignment: Yes
Miter Cut: Single 60°
Motor: 3HP 3Ø
Swivel Method: Head
Table Height: 25.75
Voltage: 220/440V
Ship Wt: 1765 lbs.

Sawblade.com is reinventing the way consumers buy sawing products online so log on to our website and "run lean"!