Ekstensive Metal Works was founded in 1994 by Bill Carlton. It is one of the most respected custom fabrication and automotive design shops in Houston, Texas.
Ekstensive specializes in custom trucks and cars. They strive to deliver the most reliable and highest quality vehicles to customers and uses Sawblade.com's band saws and blades to help achieve reliable and precise cuts.
Meet the Ekstensive team
Bill Carlton, the owner, tells us how they build custom cars and make every suspension bracket, frame bracket and full chassis in-house with his team.
Growing up, Bill was accustomed to seeing his dad working on trucks and cars and transforming them into beautiful and powerful vehicles.
He was raised on the property where Ekstensive operates. Carlton's father purchased the property off Sunny Drive in 1976. Later on, he started a small shop and sold steel and welding supplies.
Soon, Carlton started working in the family business and transforming vehicles for fun. In 1998, he finally decided to turn his passion into a business.
His business rose to fame in 2017 with the show Texas Metal. In the show you can see Bill and his team design and build outrageous, enviable cars and trucks. You can stream it here on Motor Trend.
Tim Donelson then proceeds to show us some of the projects that their team is working on.
The first one is a 2016 Platinum with their 14″ lift kit, 26×16 wheels and 40″ tires. His team powder-coated all the suspensions.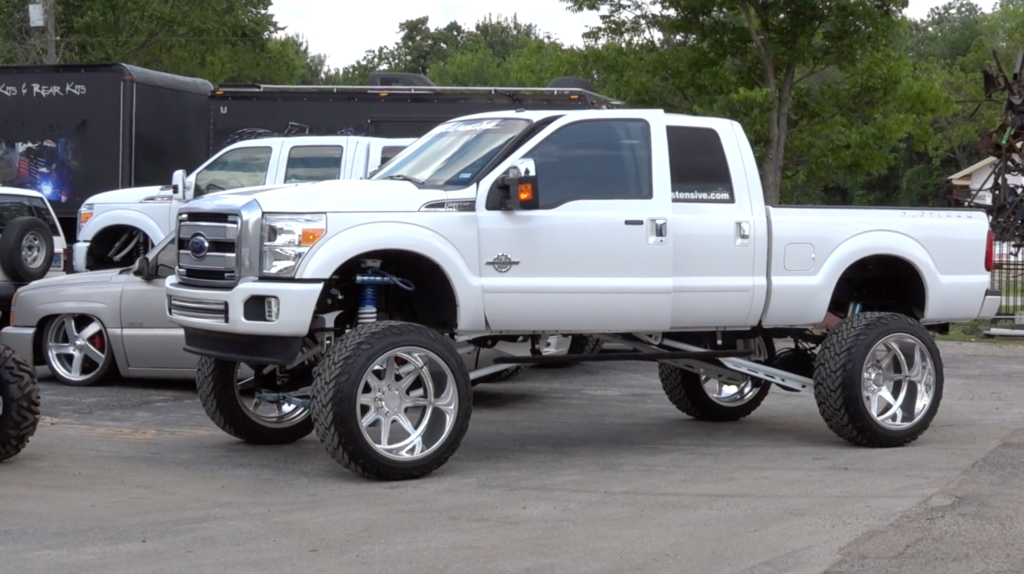 Next to it is a 2016 Platinum single cab that they've built a new chassis for and put flat on the ground. They had to remove all the stock frame out and built a full custom metalworks chassis.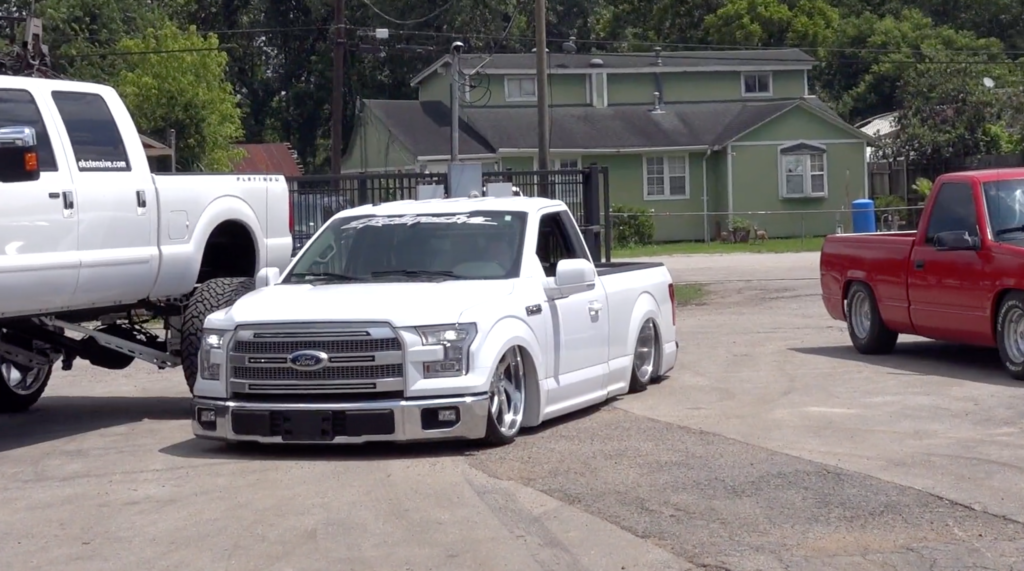 Ekstensive can create anything you think of and will accept any challenges that you bring to them. They've built golf cart frames, boat consoles, barbecues pits, motorcycle trailers and many more.
Working on the 1959 Chevy Impala
They are currently building a frame for a 1959 Chevy Impala convertible as the customer came in asking for the "Ekstensive touch".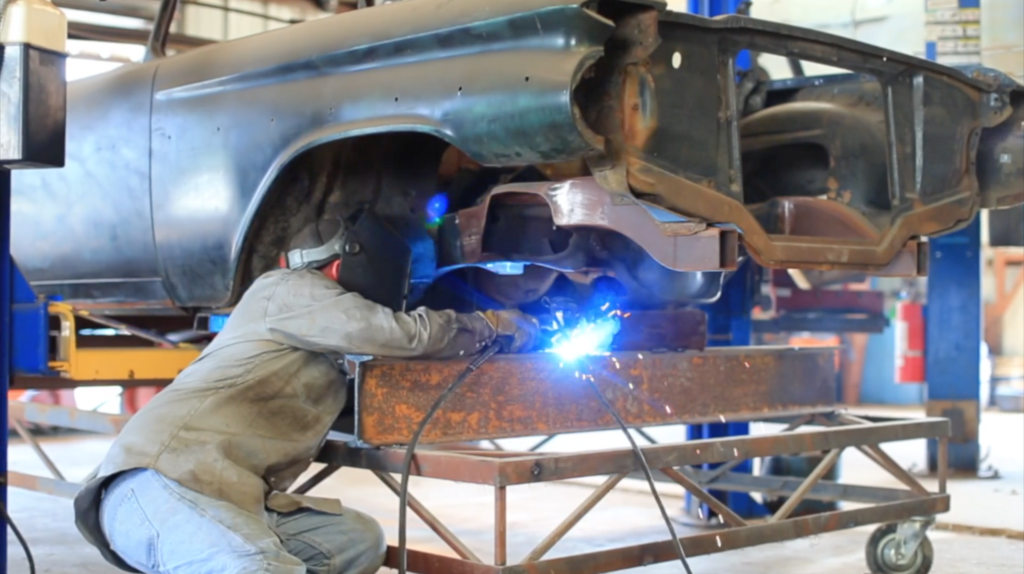 The Ekstensive guarantee
Anything they build in house is stronger and safer than factory, subsequently, their parts come with a lifetime warranty for your bends won't break and your bars won't scrape.
Additionally, they sell and ship various products including their Ekstensive Kits. They even supply 60% of the shops in the nation in air suspension.
"We use Sawblade.com because their products are durable, reliable and they are always there for us."

Tim Donelson from Ekstensive Metal Works
The Ekstensive team is clearly "Baggin' the best and fixin' the rest!" Here are some other examples of their work from their Instagram: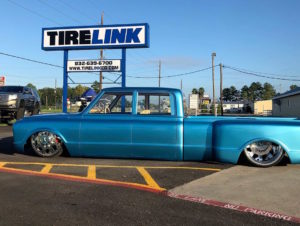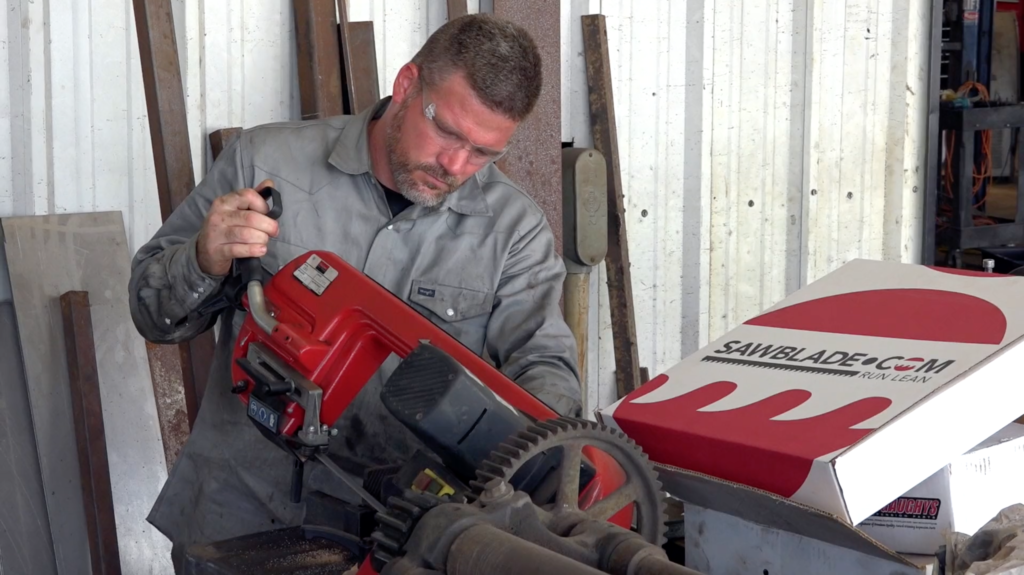 The Trajan 125 from Trajan Saw Works is a high quality, portable band saw that gives any shop years of profitability.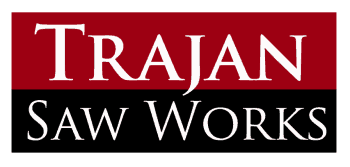 Adjustable left cutting angle from 0 to 60 degrees
Powerful 110v single phase motor with electronic blade speed regulator
Anti-reset safety function
Cut without lubrication
Designed arch-blocking device for easy handling
With standard blade and length stop set
Simplified blade tension
Easy to carry
5'8″x½" blade size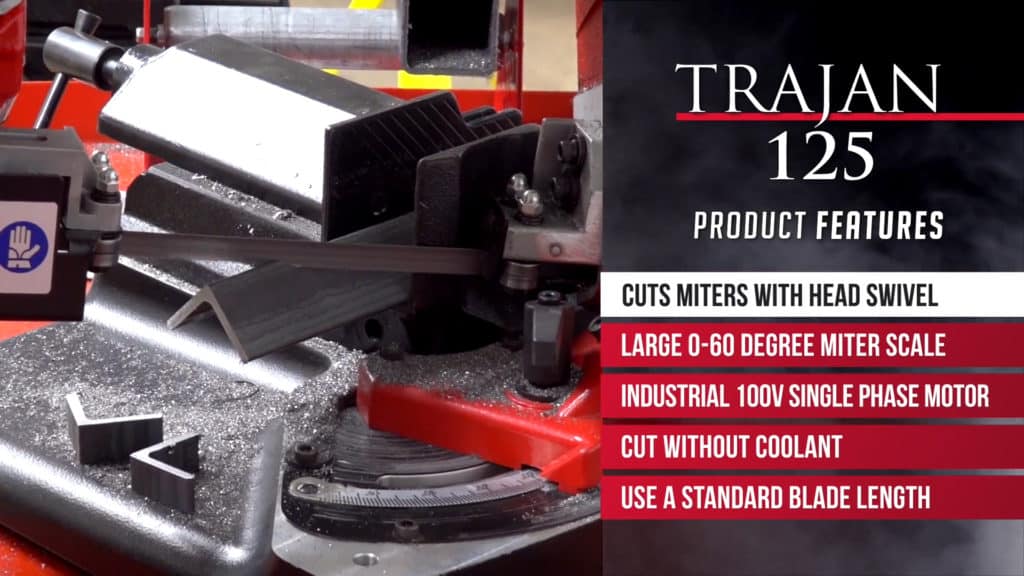 The Trajan 125 is 110 volts so it can work in any settings. It is driven by a potentiometer controlled, DC motor which allows the operator to adjust the blade speed. This feature allows the blade to run at an optimal speed, increasing blade life.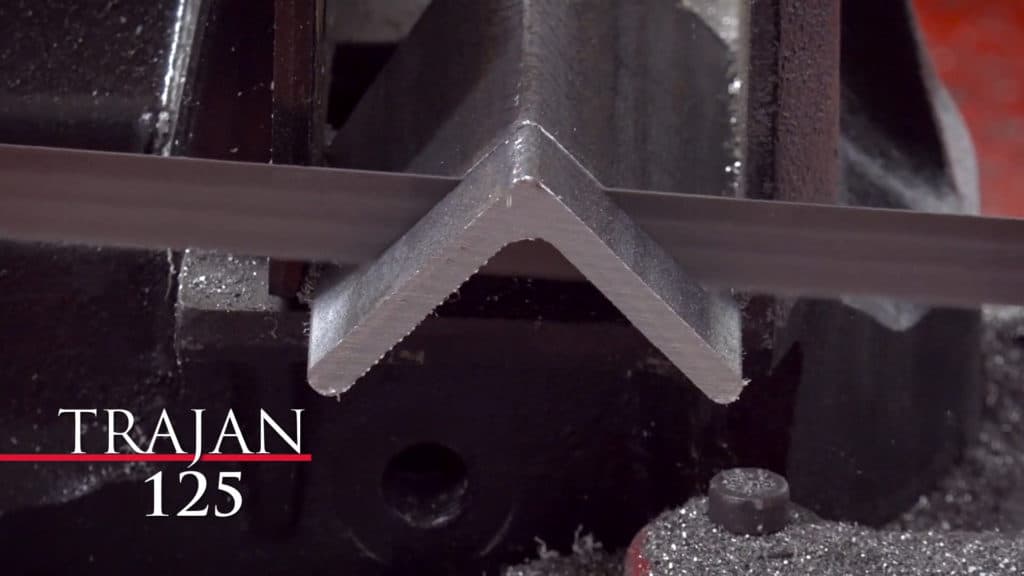 Trajan's complete line of band saw machines make use of the latest engineering techniques and protocols to manufacture modern, reliable and efficient band saw machines for small "job shops", fabricating shops, mid-sized company's involved in steel fabrication and production, aerospace, petroleum and the steel industry itself.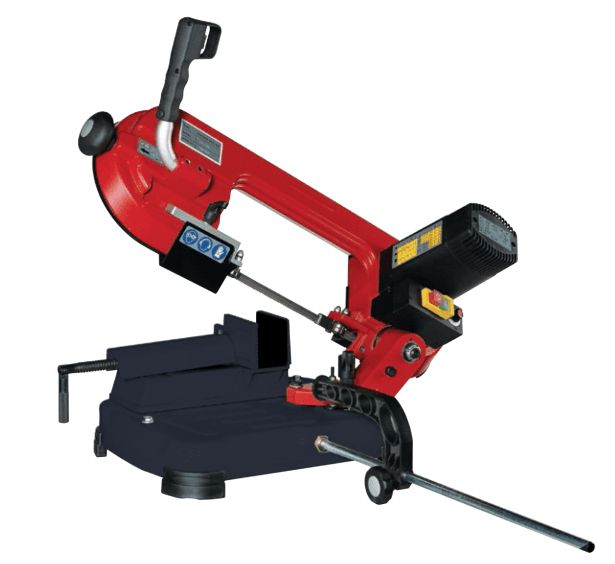 Blade Guide: Roller
Length: 4′ 8 1/2″ x 1/2
Speed: 98-262
Cut Method: Horizontal
Feed System: Manual
Miter Cut: Single 60°
Motor: 1010W
Swivel Method: Head
Voltage: 110V
Ship Wt: 48 lbs.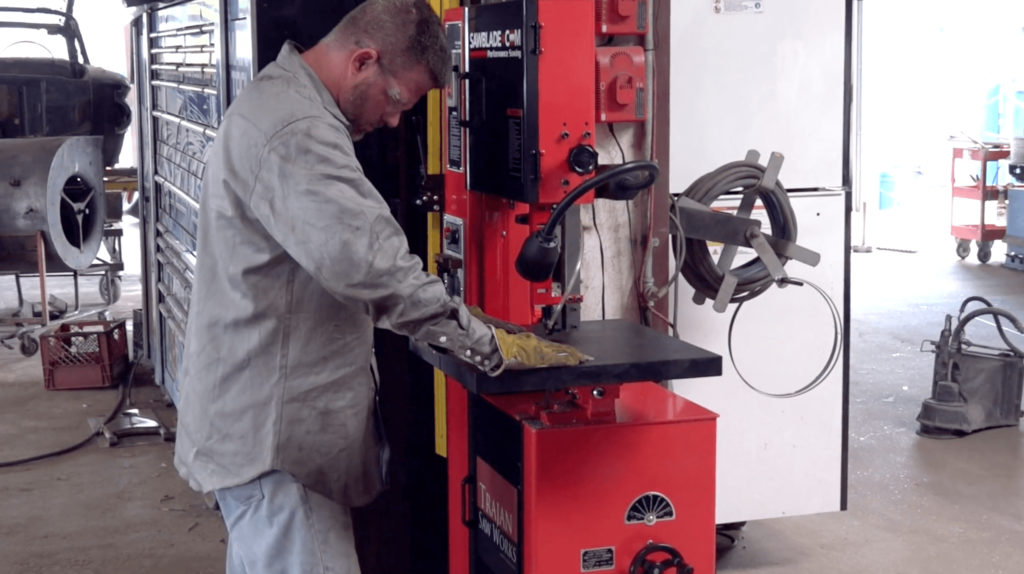 The Trajan 1408 14″ Vertical Bandsaw is specifically designed for shop or production metal cutting applications. This variable speed bandsaw provides proper adjustments for high efficiency cutting. The easy to read blade tension indicator and multi-tilting worktable make for easy adjustments in cutting. The heavy-duty, enclosed steel frame reduces vibration. Standard equipment includes: blade welder, grinder, and cutter; work clamp, chip blower, and a blade and tire cleaning brush.
Blade Guide: Carbide
Length: 114
Speed: Variable 82-3950
Cut Method: Vertical
Motor: 1HP
Table Height: 39 in.
Voltage: 115/230V
Ship Wt: 685 lbs.
Utility Trajan Band Saws
Trajan band saws offer premium performance and long-term durability. They manufacture cutting machines engineered to deliver precise cuts in a variety of production environments. Choose the Trajan band saw best suited your cutting needs: Their line of machines ranges from portable, lightweight saws to powerful, heavy-duty machines that can handle the hardest metals and most difficult applications.
Why Choose Trajan
Trajan band saws are utility-first machines, designed by some of the foremost folks in the metal cutting industry. While they prioritize effective, accurate cutting capability, their cutting machines also showcase the best in contemporary sawing technology. Trajan band saws take power and control to the next level.
Trajan Band Saw Technology
Their saws provide rapid, accurate cutting. Trajan band saws are built with:
Strong cast gearbox – On most series, they use bronze and steel gears, powering a fast-changed variable drive system.
Heavyweight Table Bed and Steel Base – In combination with the sturdy steel base, the machined table bed helps eliminate vibration and enhance cutting accuracy.
Accuracy-ensuring features: Horizontally mounted guide arms, and adjustable carbide blade guides and rollers are all standard on horizontal Trajan band saws.
Hydraulic Control: Feeding stock at variable rates and locking the band saw head at any height is made simple with our hydraulic control system. The 1319 mitering band saw series offers an optional head lift that makes it ideal for the structural industry.
Many Trajan band saws also come standard with wire chip brushes, standard coolant pump systems, and roll-in feed machinery.
Operator Emphasis
Operator safety and convenience is a priority for Trajan band saw designers. In addition to a quick release vise with hand wheel operation, which helps operators change material quickly, Trajan saws offer:
Covers Thermo overload protection
Auto shut off
Blade guards
Safety interlocks
Convenience chip brush blade cleaner
Many Trajan band saws also come with a coolant pump system. Furthermore, all of their cutting machines come standard with a wet operation, they can be used dry. Additionally, operators can also count on Trajan saw to enable simple and fast saw operation. They clearly mark controls on every saw they sell.
Improved Blade Life
When saws are sturdy and simple-to-use, it helps ensure longer blade life. Less vibration, fewer chips, and proper coolant levels ensure that Trajan band saws deliver accurate cuts and preserve the integrity of the band saw blade.


If you liked this video, click here to watch more of our customer stories or log on to sawblade.com to discover our wide range of sawing products!