The Q601 M42 Bi-Metal Band Saw Blade with Ekstensive Metal Works
In this video, we sat down with Tim Donelson from Ekstensive Metal Works. You'll learn how they use our Q601 Series Band Saw Blades M42 Bi-Metal.
Ekstensive Metal Works
Ekstensive can create anything you think of and will accept any challenges that you bring to them. They've built golf cart frames, boat consoles, barbecues pits, motorcycle trailers and many more.
There can be between 20 to 100 cuts in a frame and the team needs blades that will cut straight. The folks at Ekstensive Metal Works use Sawblade.com for our durability and reliability.
The Q© 601 M42 Bimetal Custom Band Saw Blade
One of the most popular saw blades online, the Q© 601 M42 Bi-metal is designed to be an all-purpose, high-quality blade. We custom build each blade to have aggressive tooth geometry and a fatigue-resistant backer. By setting the teeth alternately on the left and right side at regular intervals, we break up the regular tooth pattern to reduce noise and, therefore, vibration and chatter.
This saw blade's long-term durability and capacity for cutting a wide range of alloys makes it a great option for steel service centers, medium to large manufacturers, fabricators, and tool and die shops. Get the blade you need crafted to your exact specifications.
| | |
| --- | --- |
| Benefits: Resists heat, abrasion, and shock. Can be used in horizontal and vertical machines. Ideal for contour and general purpose cutting. | Applications: Carbon steel, Chrome steel, Tool steel, Die steel, Stainless steel, Nickel based steel, Structural, Pipe and tube. |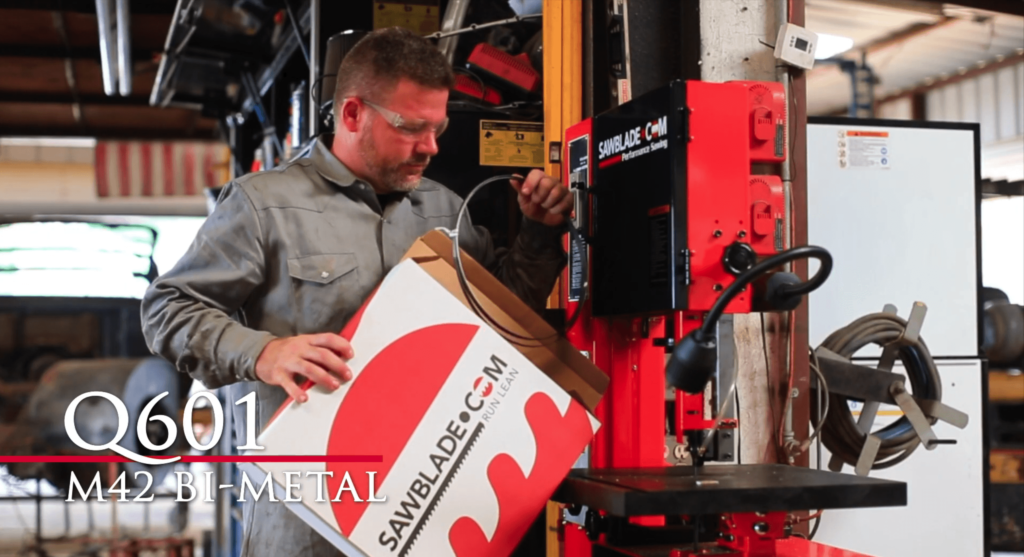 Qsaw 601 M42 All Purpose Band Saw Blade:
Designed to be a "Go To" blade for cutting steel "One Blade Cuts It All"
Hi carbon steels, stainless steel, alloy steel, structural steel cutting applications
This blade expands the ranges of sizes and shapes that can be sawed successfully without changing blades
Features
5-7 degree positive rake angle
M-42 cobalt high speed steel edge
Ground tooth form
Benefits
Fast Cutting Rates
Long life on moderate to difficult to cut materials
Long life on moderate to difficult to cut materials, low cost per cut
Next Day Shipment: Why It Makes a Difference
Sawblade.com is dedicated to their customers. They understand that losing even one day of productivity can have a drastic impact on a workshop. That's why Sawblade.com offers Next Day Shipment. Employing modern technology and the latest innovations in logistics methodology means that Sawblade.com customers can get a new saw blade or a replacement part as soon as possible. We asked the sales department at Sawblade.com about the advantages of Next Day Shipment and why it's critical to the Sawblade.com mission.
Why Next Day?
Next Day Shipment can present some logistical hurdles. That is why not all industrial band saw suppliers offer it. As it is, many other suppliers take up to five days deliver their products. One of the Salesmen explained that since many employees at Sawblade.com have experience in machining and production, they understand the impact a five-day delay can have on a shop, especially if margins get very thin. As long as you order before 3 PM, then Sawblade.com will Ship your blades the next day. If you place an order after 3 PM then your order will be processed first thing in the morning and out the next business day.
No Extra Fees
There are no hidden fees for Sawblade.com's Next Day Shipment, Only their standard shipping fee applies. Other suppliers may charge extra for quicker delivery. Amazon Prime, for example, requires a membership to get free two-day shipping and even more money on top of that if you need your package the next day. Additionally, you can always reach out to the knowledgeable Sawblade.com sales staff with questions. They are more than capable of fixing a variety of problems that may arise with the delivery. In fact, you can ask them any saw-related question you may have.
If you are looking for a company that aims to give their costumers the best for their money, it is hard to find a better deal than Sawblade.com. Contact Sawblade.com today if you are looking for a new saw, saw blade, or replacement part.